Posts for tag: gum disease
By VB Family & Cosmetic Dentistry
December 21, 2018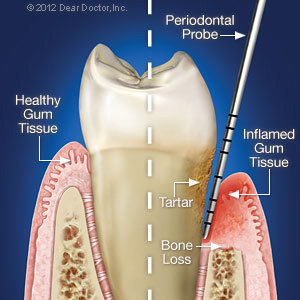 When we refer to periodontal (gum) disease, we're actually talking about a family of progressive, infectious diseases that attack the gums and other tissues attached to the teeth. Caused primarily by bacterial plaque left on tooth surfaces from inefficient oral hygiene, gum disease can ultimately lead to tooth loss.
There's only one way to stop the infection and restore health to diseased tissues — remove all of the offending plaque and calculus (hardened plaque deposits) possible from tooth and gum surfaces, including below the gum line at the roots. The basic tools for this task are specialized hand instruments called scalers or ultrasonic equipment that vibrates plaque loose. A series of cleaning sessions using these tools could stop the infection and promote healing if followed with a consistent, efficient daily hygiene habit.
There are times, however, when the infection has progressed so deeply below the gum line or into the tissues that it requires other procedures to remove the plaque and infected tissue. One such situation is the formation of an abscess within the gum tissues, a pus-filled sac that has developed in response to infection. After administering local anesthesia, the abscess must be treated to remove the cause and allow the infectious fluid to drain. The area is then thoroughly flushed with saline or an antibacterial solution.
The gum tissues are not completely attached to the tooth surface for a small distance creating a space. These spaces are called periodontal pockets when they are inflamed and continue to deepen as the disease progresses. These inflamed and sometimes pus-filled pockets form when tissues damaged by the infection detach from the teeth. If the pockets are located near the gum line, it may be possible to clean out the infectious material using scaling techniques. If, however, they're located four or more millimeters below the gum line a technique known as root planing may be needed, where plaque and calculus are shaved or "planed" from the root surface. As the disease progresses and the pockets deepen, it may also be necessary for surgical intervention to gain access to the tooth roots.
To stop gum disease and promote soft tissue healing, we should use any or all treatment tools at our disposal to reach even the most difficult places for removing plaque and calculus. The end result — a saved tooth — is well worth the effort.
If you would like more information on treating periodontal disease, please contact us or schedule an appointment for a consultation. You can also learn more about this topic by reading the Dear Doctor magazine article "Treating Difficult Areas of Periodontal Disease."
By VB Family & Cosmetic Dentistry
November 01, 2018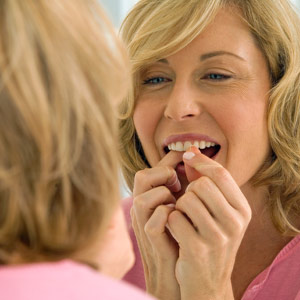 Nearly half of all Americans have some form of periodontal (gum) disease. Without proper daily hygiene and treatment, this aggressive disease can ultimately cause tooth loss. It also appears the effects of gum disease reach beyond the mouth, as researchers have found relationships between it and other systemic diseases.
Inflammation, the body's response to infection, is at the center of these relationships. In the case of gum disease, periodontal tissues become inflamed as the body attempts to isolate and fight the infection. If the inflammation becomes chronic, however, it will begin to damage gum tissues.
Inflammation is also a major feature of diabetes, a condition in which the pancreas doesn't produce enough insulin. Without enough of this hormone that transforms sugar into usable energy for the body, the sugar accumulates in the blood stream; as a result, the patient becomes more susceptible to an exaggerated inflammatory response when the body encounters an infection. This is especially true for periodontal infections: the resulting inflammation can be greater and harder to control in diabetic patients. What's more, uncontrolled gum disease may worsen their blood sugar levels.
Although not as prominent as with diabetes, cardiovascular disease also seems to share a connection with gum disease. This collection of chronic conditions like high blood pressure or restricted blood vessel flow raises the risk of heart attack or stroke. Like gum disease, inflammation is a major component in the progression of cardiovascular disease — in fact, both diseases leave similar chemical "markers" in the blood that indicate their early development.
Ongoing research has also produced some promising treatment findings for both gum disease and inflammatory diseases, which also include osteoporosis, respiratory disease and rheumatoid arthritis. We're now finding in many cases that treating one side of the disease connection can have positive effects on the other side. For example, diabetics who receive professional treatment for gum disease may see better blood sugar control.
With this in mind, the best approach is to practice effective, daily oral hygiene to reduce the risk of gum disease, coupled with regular office cleanings and checkups. Not only will this help you maintain optimum oral health, it may also contribute to better management of other conditions you may have.
If you would like more information on the relationship between periodontal (gum) disease and other diseases, please contact us or schedule an appointment for a consultation. You can also learn more about this topic by reading the Dear Doctor magazine article "Good Oral Health Leads to Better Health Overall."